Do you like vegan pecan bars? If yes, then follow the recipe which is given below, and you will become of these vegan pecan bars. When people talk about dessert, what is the one thing which comes in your mind? Of course, a lot of calories, which will increase your belly. The best thing about these bars is that it is easy to make and healthy to eat. These pecan bars are more robust than ordinary pecan pie. You can add some choco chips and almonds as a topping, which will enhance its flavor.
You may like ordinary pecan bars, but in this recipe, there is something different in these bars. In this recipe, you will add caramel's topping and shortbread crust, which makes this recipe different from all. Therefore, if you cannot wait to make these pecan bars, then check out below.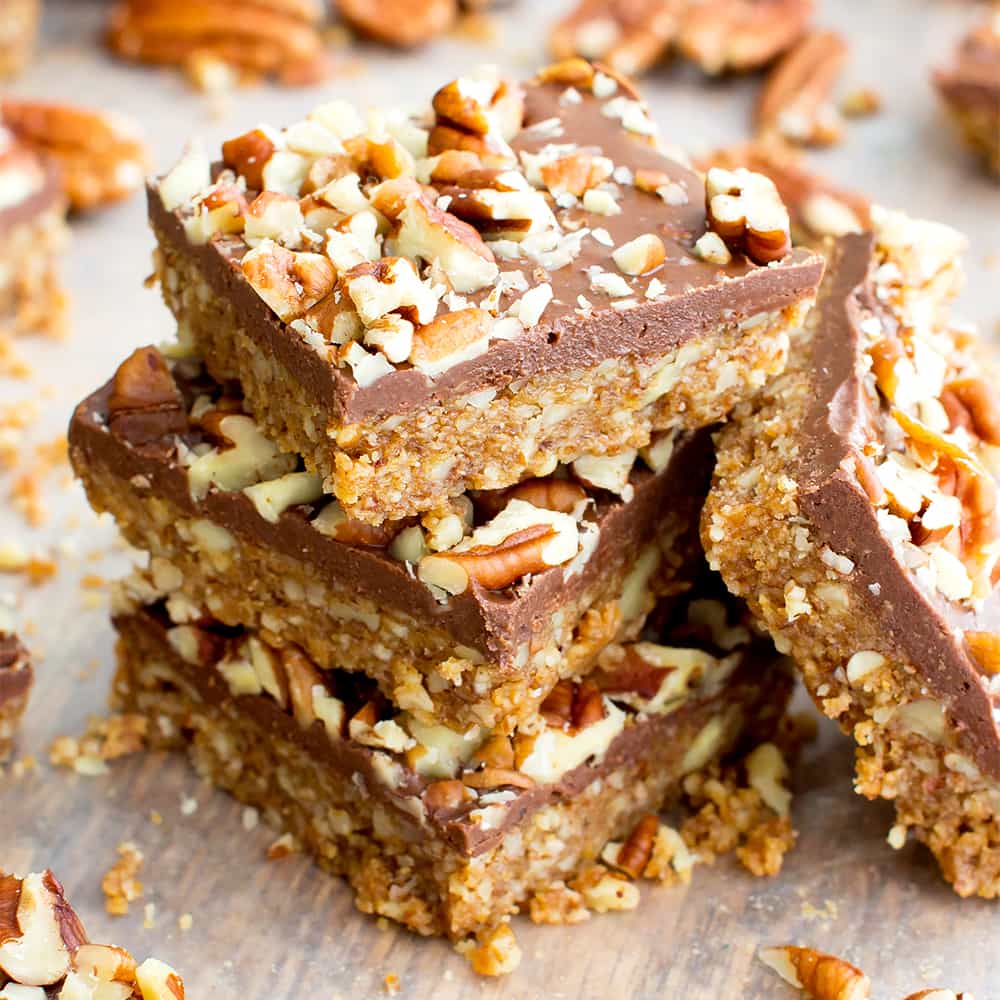 Necessary Ingredients For Vegan Pecan Bars
For Shortbread Crust
You need to take 2.5 cups of flour.
1.75 cups of sugar
Take ¼ tablespoon of salt.
At last, take 1 cup of butter and make sure it is cold.
For Toppings Of Pecan
First of all, take 2 cups of brown sugar.
Use 1 cup of brown rice syrup.
Take four tablespoons of milk, and give more preference to the non-dairy milk.
Add four tablespoons of corn starch, which plays a vital role in this recipe.
Then use ½ tablespoon of vanilla extract.
At last, you need 2.5 cups of pecans, and it should be finely chopped.
Making Vegan Pecan Bars
Firstly you have to sugar and salt in the flour properly. Then add butter in the flour, and mix it with the flour, you can use big spoons or knife to mix it.
Mix the flour and butter properly until it becomes like fine crumbs. Therefore, you can put the matter in the pan.
Then add the crumbs inside the pan, and you have to use your hand to press the crumbs. Press the crumbs until it forms a crust at the bottom. Then cook the matter for 12 minutes inside the oven.
Till the time the crust is baking, you can prepare the pecan fillings. Therefore you have to add brown sugar, brown rice syrup, milk, corn starch, and vanilla extract afterward mix all these ingredients properly and once the ingredients are mixed, you can add pecans over it.
At last, add the pecan fillings over the shortbread crust and put it in the oven for 30 minutes. And after baking it, cool down the bars, and then refrigerate it for 3 hours.
Benefits Of Consuming Pecans
Pecans are very healthy for our hearts. The fats present in pecans reduces the level of bad cholesterol and increases the level of good cholesterol. The pecans are also beneficial for digestion, and it even prevents constipation. Pecan nuts also help in losing weight because it helps in increasing metabolism, which helps a lot in reducing weight. These nuts also reduce the risk of breast cancer. At last vegan pecan bars are healthy as well as tasty, so you should eat them and stay fit.