Pancakes are easy to make, and they are light and tasty to eat its a perfect morning breakfast which you can enjoy during the weekend. The best thing in crepe is that you can prepare it easily by using six ingredients and simple vegan pancakes recipe is ready to eat. Here are some methods of pancake which you can make without eggs and milk, and you will love the taste.
Recipe For Pancakes
First collect all the ingredients such as salt, sugar, flour, baking powder. In the next step pour all the ingredients in a meal and mix them all until they all appropriately combined. If you find some lumps its ok do not mix more parts to it otherwise your pancakes will be very tough. In the next step pour 1/3 cup of batter on the heated pan and cook till the bubbles appear, then flip it to the other side and let it cook until its golden brown, it will take about 1-2 minutes. Repeat this procedure. You can serve it with maple syrup, butter or with fruits as you wish.
Vegan Pancakes Recipe
Ingredients: 2 cups of flour, ½ tsp of salt, 1 tsp of baking powder, 2tsp brown sugar, 1 cup soya milk, 2 tsp oil, ½ cup water
Take a bowl put flour, baking powder, sugar, and salt. Pour milk, oil and water into the dry ingredients and mix them all with a large spoon until they combine correctly so that your pancake would be fluffy. Now take a pan and heat it at medium flame. Pour 1/3 cup of batter on the pan, cook till bubbles come then flip to the other side and cook until it turns golden brown. Repeat the same procedure with remaining dough. Serve with maple syrup, butter. You can even freeze these pancakes in a large zip-lock plastic bag. When you want to eat microwave them and enjoy it.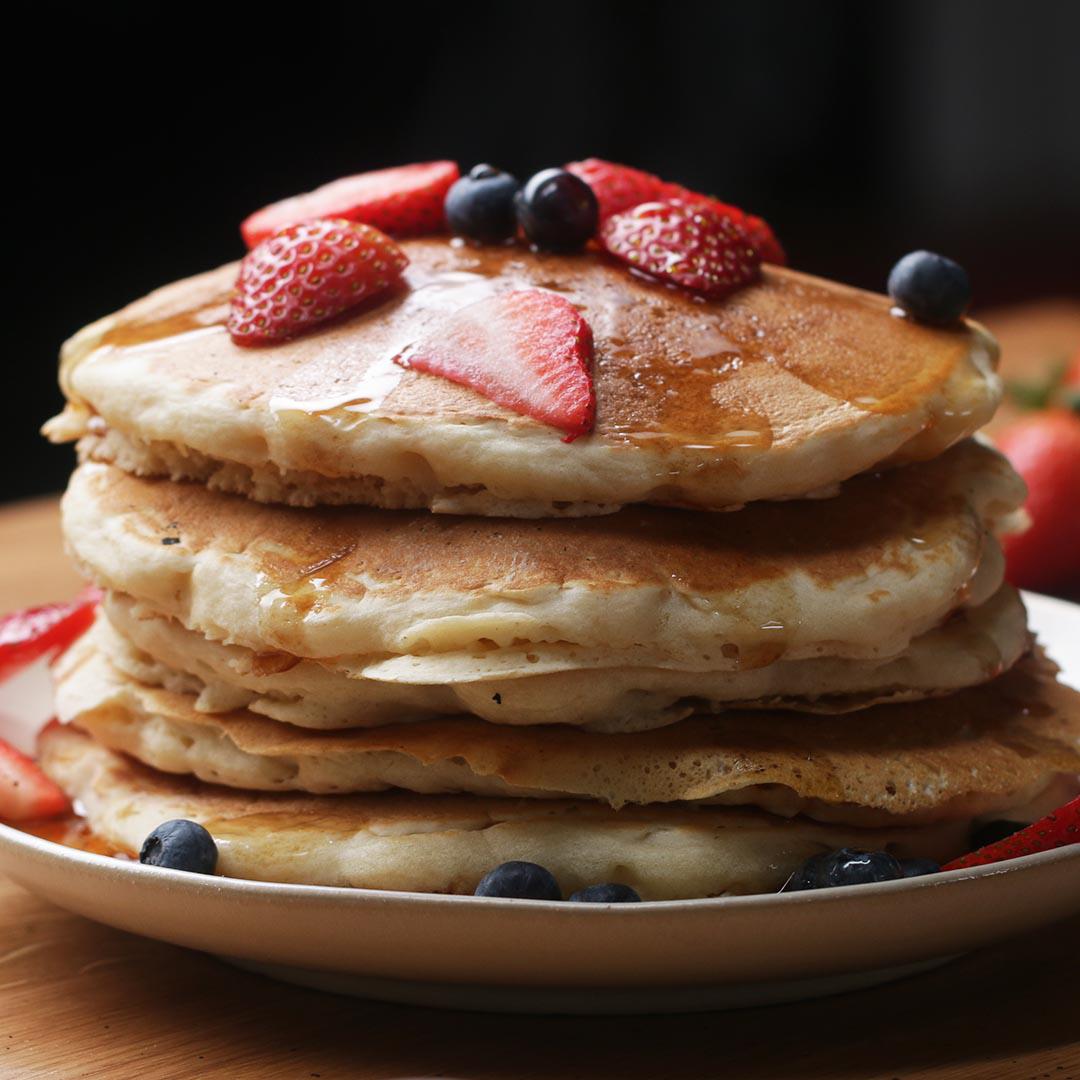 Calorie Information
Information about one calorie serving:
Calories: 380 kcal
Protein: 9 g
Carbohydrates: 60 g
Fat: 12 g
Sodium: 434 mg
Saturated fat: 1 g
Potassium: 582 mg
Sugar: 10 g
Fibre: 2 g
Vitamin A: 309 IU
Calcium: 293 mg
Vitamin C: 6 mg
Iron: 4 mg
Simple And New Pancakes Recipe
One more and easy recipe of pancake. Take whole wheat flour, salt, baking powder, and in this we will use honey instead of sugar, and oil used in this recipe will be coconut oil. Take a bowl and pour all the ingredients mix them well so that all the ingredients combined properly. In this pancake recipe only one change you have to follow which is heat coconut oil and then pour honey to it mix both of them nicely and then pour it into the batter so that it will blend easily. You are using whole wheat flour in this recipe, by using this you will find that your pancakes will turn nice fluffy and big and your whole family will love them.
These are some recipes of pancakes for you which are simple as well as affordable. Therefore, enjoy your breakfast once a week with pancakes.